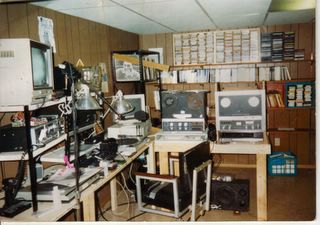 Welcome to WANK Radio - circa 1996
A good friend of mine just sent me this picture about a week ago. It's a picture of the second incarnation of my first real pirate radio station -
WANK Radio 87.9 FM
. I actually had more tied up in the studio equipment than the transmitter itself! Still, I was very thrifty, and made do with what I had (notice the turntables?)
Technology in 1996
The computer was a "State-of-The-Art" Packard Bell. I believe that it was a 486! I tried to use it to edit audio, but the technology was still fairly primitive at that time. I was still doing my editing via the two Revox open reel decks on the right. I was well versed in the art of using razor blades (to edit tape, of course.) My friends thought that I was a lunatic - they just smiled and nodded as I went along cutting and pasting the bits and pieces of tape together. Of course, if you've been following me for quite some time now, you know what my stance is regarding technology - that goes without saying.
Let's Try This...
Lots of folks were confused as to why a 22-year old kid was using those "dinosaurs," when cassettes with great recording quality were readily available. They just didn't get it. You have to be a true hi-fi geek to truly appreciate my point of view. To prove my point, pull the tape out of a cassette's shell. Now, get a razor blade - cut through the tape, and lay it flat on the table. OK - now comes the fun part! I want you to
put it back together
so that there is no click or pop at that edit point. What's that? Impossible you say? Not really - but it is a pain in the ass! OK - I proved my point. And just to be a nice guy, I'll even splice the cassette back together for you.
OK...
I'm not sure if this is all a totally coherent thought, but the picture really inspired it. I'm just having another nostalgia headtrip. Ahh....the good ol' days! Where are
Mr Peabody and Sherman
when you need them? Perhaps they are on the TV now...